Stainless Steel License Plate Frame in Gun Metal Black Plating Finish. Custom stamped & color filled custom painted text. Our stainless steel license plate frames are by far the best metal license plate frame on the market today. Available with either four holes or two holes. Our gun metal plating or black plating is a similar look to black chrome license plate frame, only nicer!
Need Pricing?

Fill out our Quote Request form on this page or call: 1-888-441-1603


Details
Material
Stainless Steel, also Available in Aluminum

Plating & Finish Options
Shiny Mirror Polish, Gunmetal, Shiny Black, Matte Black, Brushed Metal, Raw Metal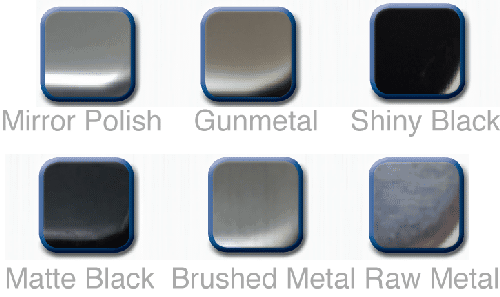 Logo Method Options
Panel with Raised Letters, Stamped Recessed and Color Filled, Silk Screened, Laser Engraved, and more.

Minimum:
Normal MOQ 2,000pcs for Gun Metal (500pcs for normal Stainless)
Compare our stainless steel license plate frame to competing metal zinc alloy frames:
More durable finish ~ Holds up to the elements much better than zinc alloy frames.
Stainless steel license plate frames look better!
Stainless steel plate frames hold up better over time
Shipping weight is nearly half that of comparable zinc alloy frames, therefore saving you money
Less bulky than zinc frames
More finish options! Mirror shiny finish, brushed finish, gun metal plating, color paint
Only high grade stainless steel material is used. Does not rust or deteriorate like some zinc frames
US & Canadian styles shown here. European & Australian Number Plate Frames are also available
Best license plate frame for:
-Car dealer advertising & Remarking
-Car & Truck fleets
-Realtor groups
-School and alumni associations
-Companies
-Fundraising promotions
View All License Plate Frames | View All On Car Advertising
---